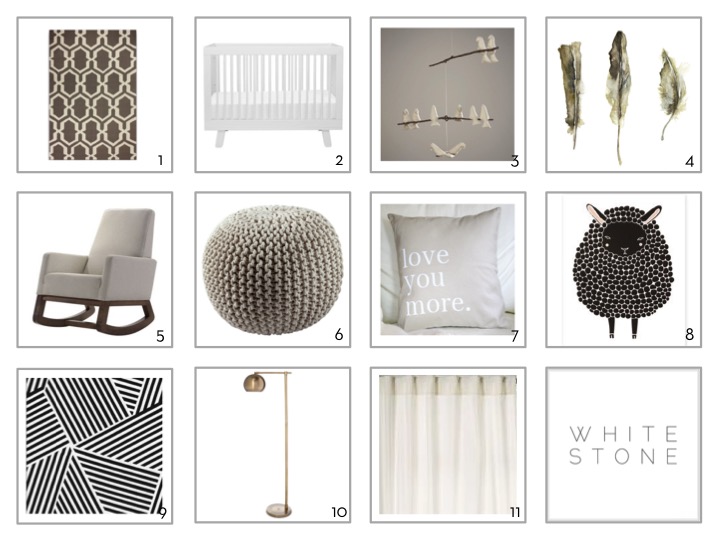 A NIGHT IN SHINING ARMOR OR A PRETTY, PRETTY PRINCESS?
I LOVE baby spaces! I also love a challenge… So, designing a nursery in which the gender of the new baby is unknown creates such a fun opportunity for me to push myself! It can become such overkill to do the predictable pink nursery for a little girl and the typical blue nursery for a boy time and time again. Time to get creative!
My personal design style is tailored, but soft and inviting, which I was really able to apply to this particular room. It goes without saying that it's so important in a gender neutral nursery to strike a good balance between masculine and feminine. I used heathered wool drapes and the bold accent color of black to give the space that "menswear" look I'm so fond of. I threw in softer elements such as the adorable Norwegian rocking sheep and the sheepskin rug to pack a punch of that softness I wanted to accomplish.
"Themes" aren't really my thing, but while browsing the Land Of Nod, I came across a changing pad cover that was just too irresistible to pass up! It was covered in the most adorable little tan sheep, making me have one of those swooning "awwww" moments. It was certainly the right color palette to work for this baby space. Paired with a few sweet sheep art prints I found on Etsy, it was just enough without feeling like I was throwing sheep around everywhere! I needed to find balance between the organic and earthy feel of the sheep, so I mixed in strong geometric prints with a large area rug and designed custom crib bumpers with a strong Nate Berkus fabric that I couldn't be happier with!
With the defining design elements established, I was now free to fill in the blanks on all the important, functional pieces.  A gorgeous crib, a ridiculously comfortable rocking chair, plenty of storage, and great lighting.  Lastly, it just wouldn't feel like a space that I designed without mixing some metals, so you better believe I found all kinds of wonderful accessories to put the finishing touches on this adorable nursery! 
Naturally, once the little bundle of joy arrives, we'll be able to add some touches of that are more indicative of a sweet baby girl or a handsome baby boy!  I've included some images and links below for some of the fun ways to personalize it come June! 
I can't wait to share the pictures with everyone of how this Gender Neutral Nursery came together. This has truly been one of my favorite projects to work on to date! Check out additional baby spaces I can't get enough of on my Baby Spaces Pinterest Page!
If you are interested in Professional Interior Design Services, please contact me at hello@whitestonedesigngroup.com.
THANKS FOR STOPPING BY MY FRIENDS! HEATHER-SCHERIE