With wedding season in full swing I thought I'd share with you a really easy DIY bridal shower game for any maid of honor, bridesmaid or best friend to make for your sweet bride-to-be. My best friend, Kelsey, made this "How Well Do You Know The Groom?" game for me at my bridal shower. I laughed and cried and got most of the answer right! The best part was that she had it laminated and I got to keep it and cherish it with my other wedding momentos. She did such a great job that I had to recreate it for Heather-Scherie at her bridal shower!
WHAT YOU'LL NEED:
staight edge/trianlge for cutting
exacto knife
scrapbook paper (I found this small booklet of paper from TJ Maxx)
heavier weight card stock paper in your color of choice
hole punch
metal ring clip (can easily find them at your local hardware store)
ribbon (I used grosgrain ribbon and bakers twine)
washi tape
laminator (I went to my local FedEx printing center)
the groom's email address and/or phone number
QUESTIONS FOR THE GROOM:
Where was your first kiss?
Where was your first date?
What is groom's name favorite food?
How many kids does groom's name want?
Does groom's name prefer boxers, briefs or NOTHING?!
What is a destination you both have dreamt of going to?
What is the groom's name shoe size?
What's groom's name favorite band?
How long did groom's name have the ring before he proposed?
What is groom's name favorite quality about you that made him want to marry you?
The last note card have the groom write a small note to end the game and state why he fell in love with his bride and why he can't wait to marry her.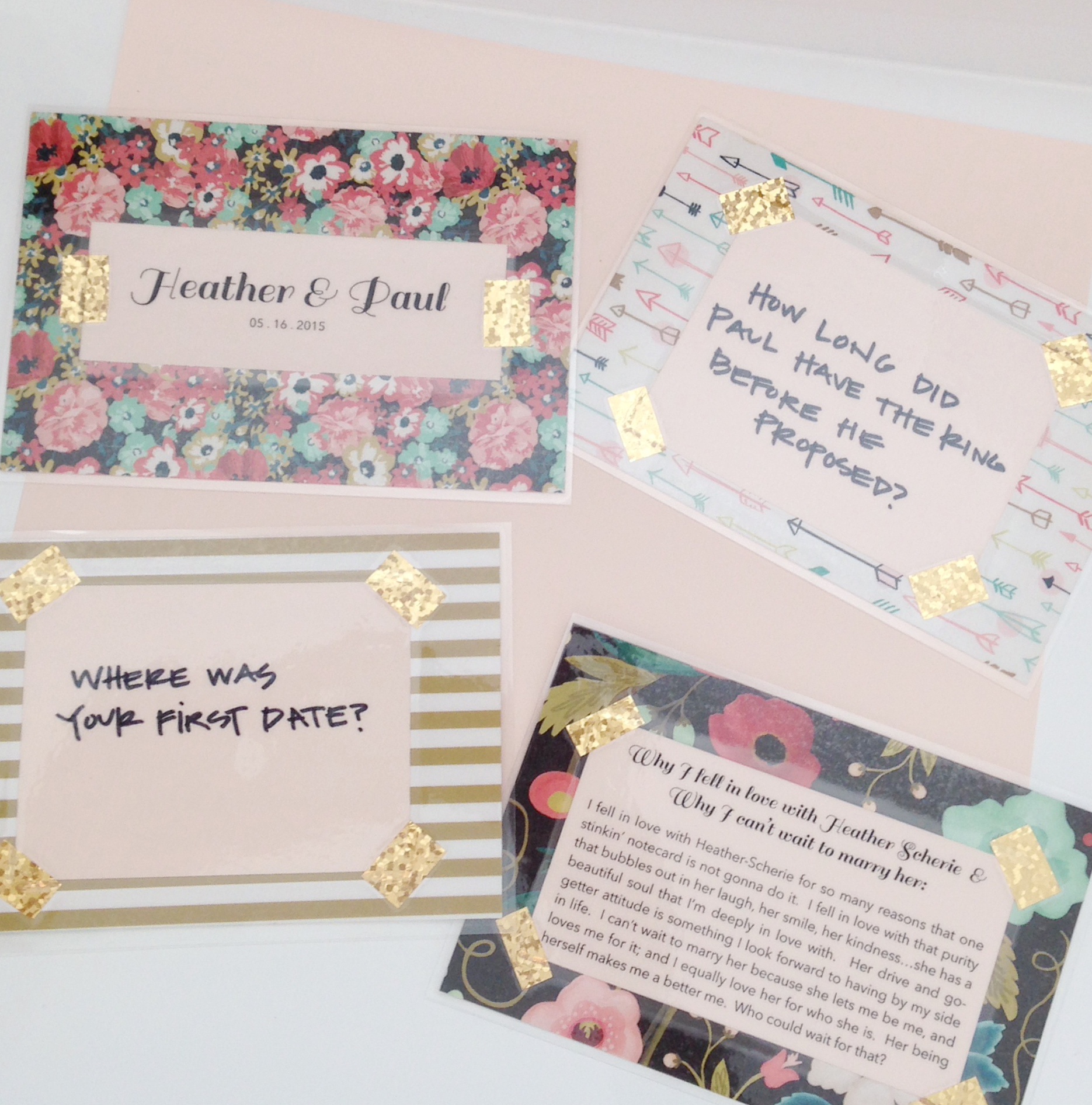 I cut each page to size (5×7) and cut the cards a bit smaller leaving about an inch of paper as a border. I hand wrote the questions and answers on each card and used washi tape to paste them to the front and backs of each page. I typed and printed out the cover page and last final question since is a bit longer and needs to fit on a notecard. I gathered everything and took them to FedEx to laminate each page and trimmed them down with their fancy matte cutter.
I used a small hole punch and punched a hole in the top left corner of each card and strung the cards (in order!) onto the ring clip.
I used some grosgrain ribbon and baker's twine that I already had and tied it to the ring clip for some embellishment.
You can turn it into an interactive game during the bridal shower by having each guest guess how many answers the bride will get right. Who ever is closest gets a small gift. And for each question the bride gets wrong she needs to drink! Or just take a sip of champagne 😉
I hope this DIY project inspires you to get creative and make your bride feel extra special during her bridal shower. Leave any questions or any DIY ideas you've done in the comments below!
You can view the beautiful photos from Heather's shower here.
xx Katie