Today feels like Christmas!!  The nursery is complete and it's finally time for the big REVEAL!   I can't believe that six short weeks ago, I decided to get on board with the One Room Challenge with the suggestion of a dear friend.   I really can't believe that I DID this in six short weeks!  But, it happened and now there is a beautiful, sweet nursery to show for it.   This space is so personal to me…  I put my heart and soul into this room.  Truly a labor of love as I was painting the trim in this room the night before shoot and reveal day!  In the end, it was completely worth every second of time that we put into this nursery and am truly grateful to everyone that had a hand in making my vision come to it's full potential.
If you've popped over onto this post from the One Room Challenge site, Welcome!  I'm so glad you're here!  I'm a professional Interior Designer and Blogger in the Greater Seattle area with a high focus on Commercial Interior Design, Residential Remodels and my team and I specialize in Remote Design Projects all over the world!  This is my first time as a participant in the One Room Challenge and although it's been taxing, I've genuinely enjoyed every second of it. – heather scherie

Looking back at where this all began, the room was where clothes no longer worn went to die, baby items we weren't ready to get rid of "just in case we decided to have another child" got stored away, and our sweet Rhodesian Ridgeback had the joy of having the biggest "dog bed" in the world.   We basically moved in 10 months ago, got it to habitable spot and really never stepped foot in it again.  And although we knew once we did find out we were having child number two that this room would need to become that child's bedroom, had it not been for the One Room Challenge, it may have stayed just as uninspired for at least a few more weeks!  So, here it is in all its glory. The before and the after. 
BEFORE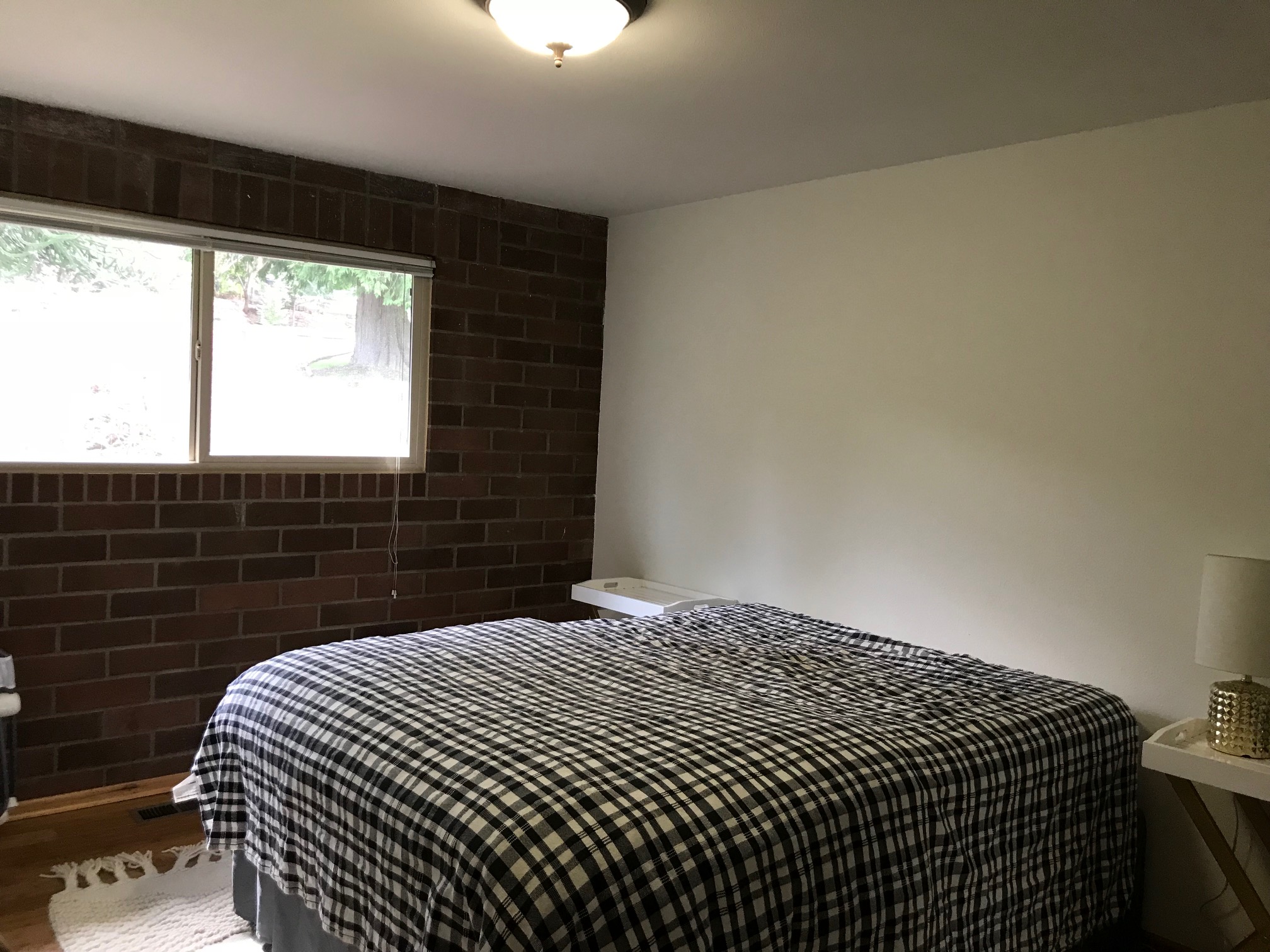 AFTER
I feel like I had SUCH a clear vision from the beginning of what I wanted to accomplish in this baby space. It's fun to reference back to the Design Inspiration Board and see the path from start to finish really never wavered.  It feels organic, minimal, and that Pacific Northwest palette really shines through! 
If you've missed any of what's lead me up to this point, you can catch up week to week below:
week 1 | week 2 | week 3 | week 4 | week 5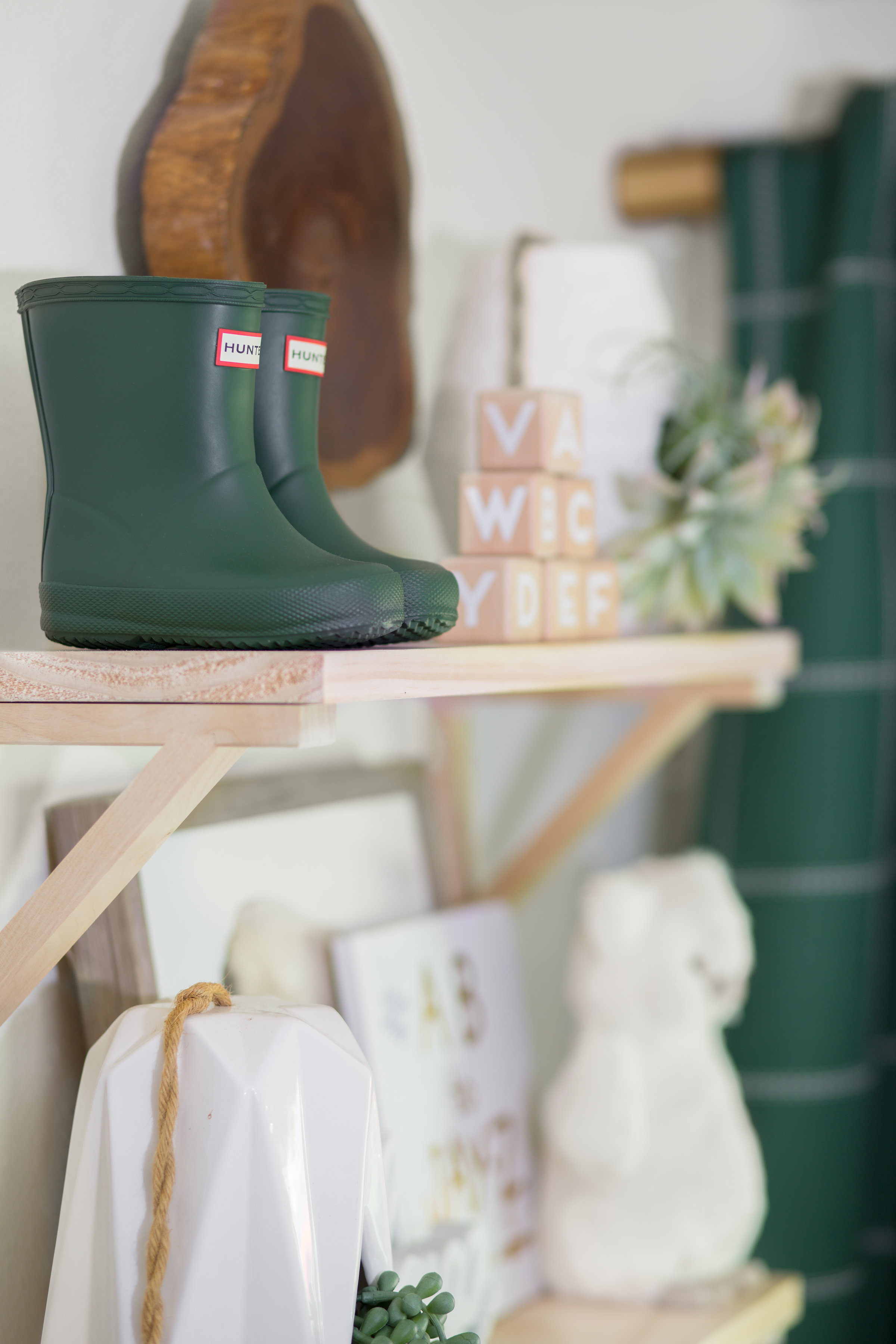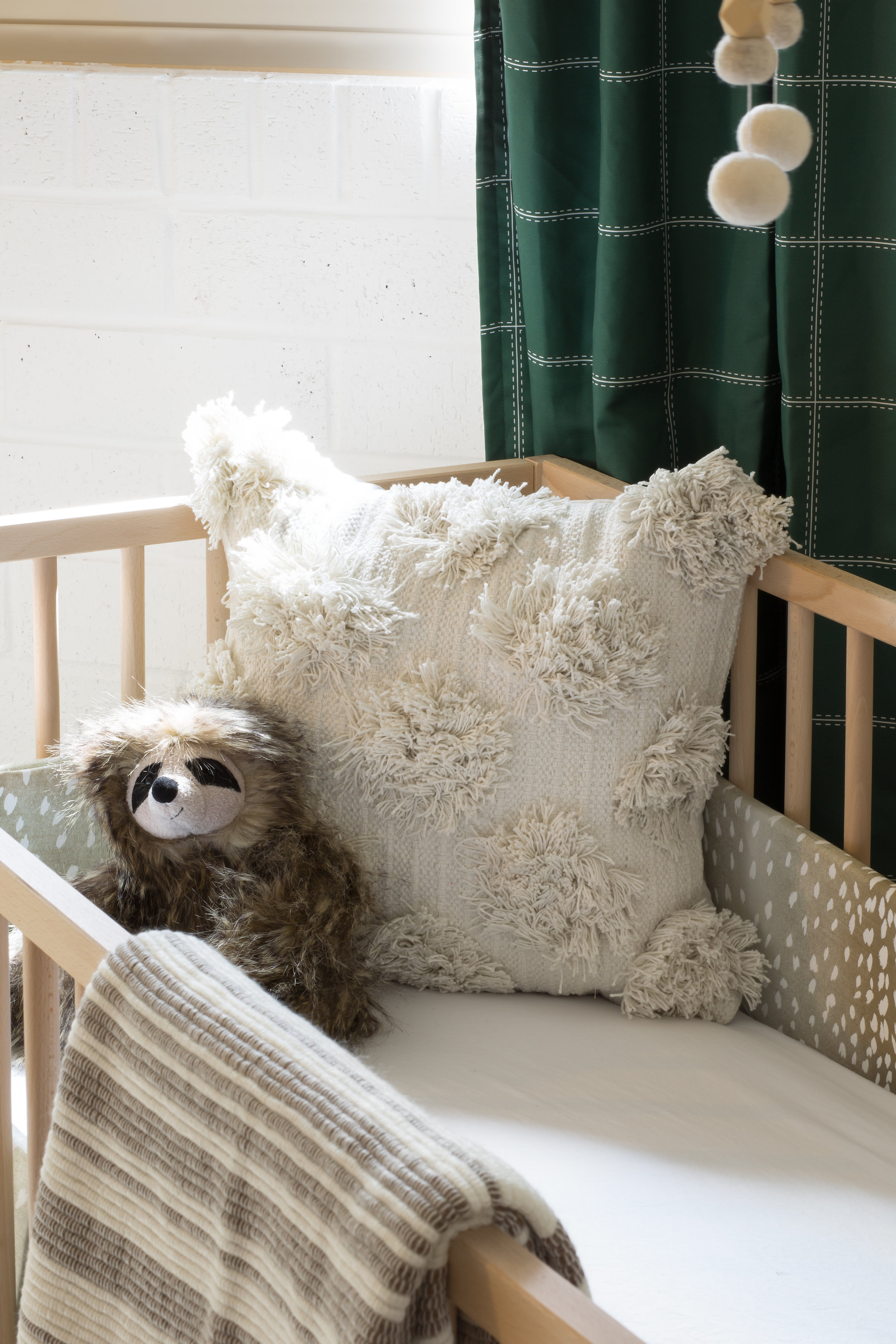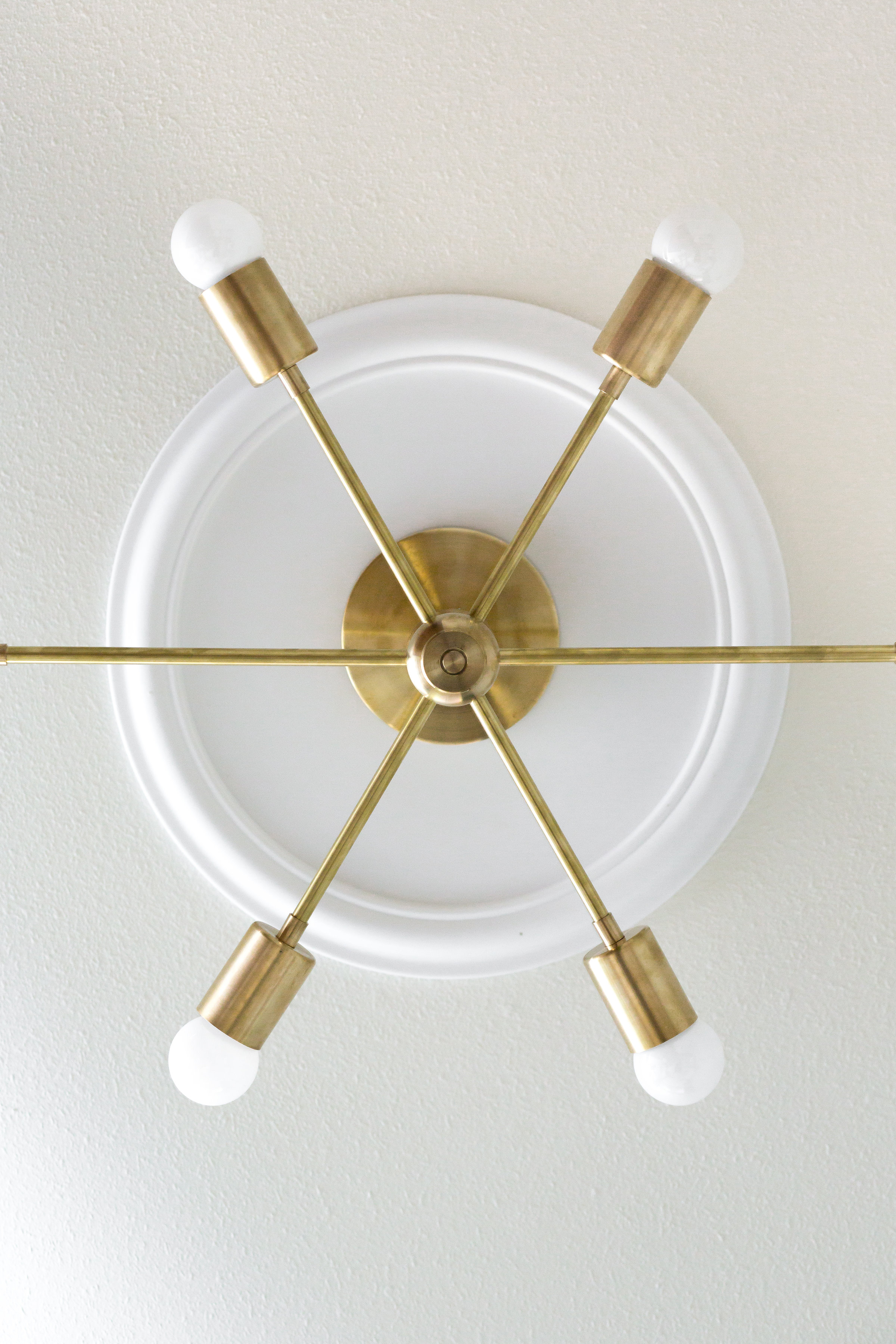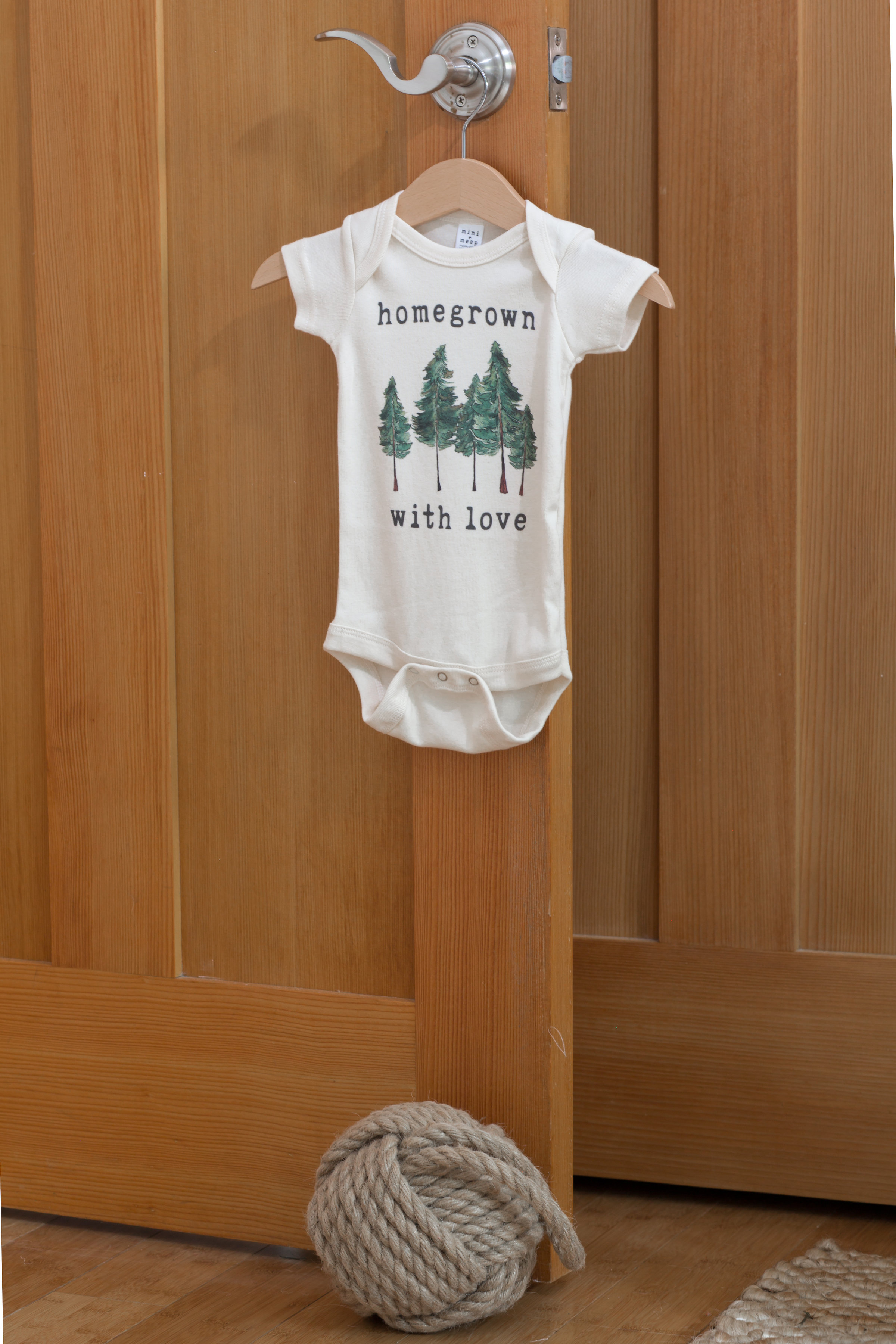 I have so many favorite details on this project.  The drapery panels and the crib bumpers turned just the way I imagined them.  I still can't believe that I actually whipped out the dusty sewing machine and fabricated them!  It's been so long since I actually worked on my own soft goods… It's even crazier that I remembered how to do it!  Well, in perfect transparency, I did have to reach out to my mother for a little guidance, but that's what moms are for, right?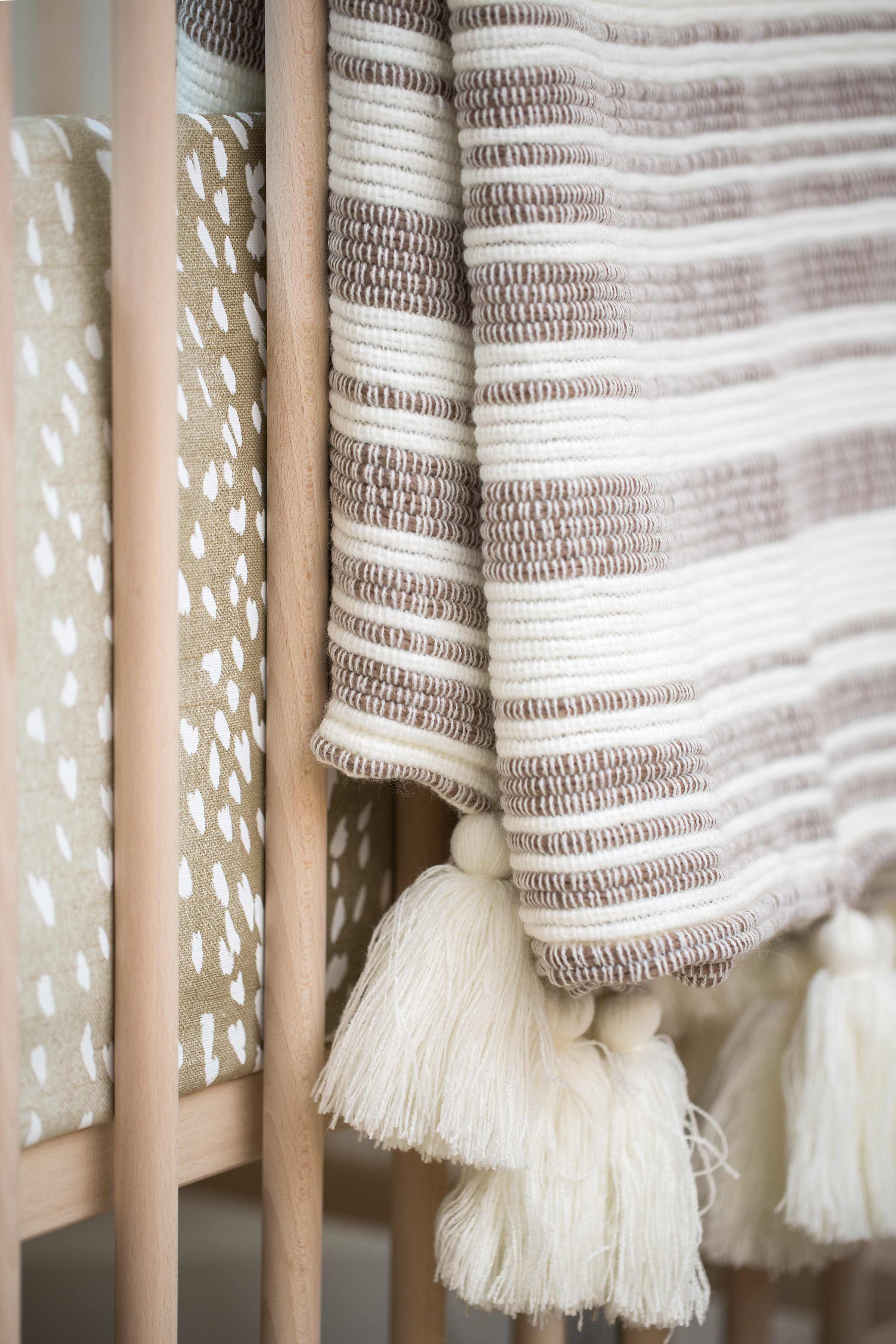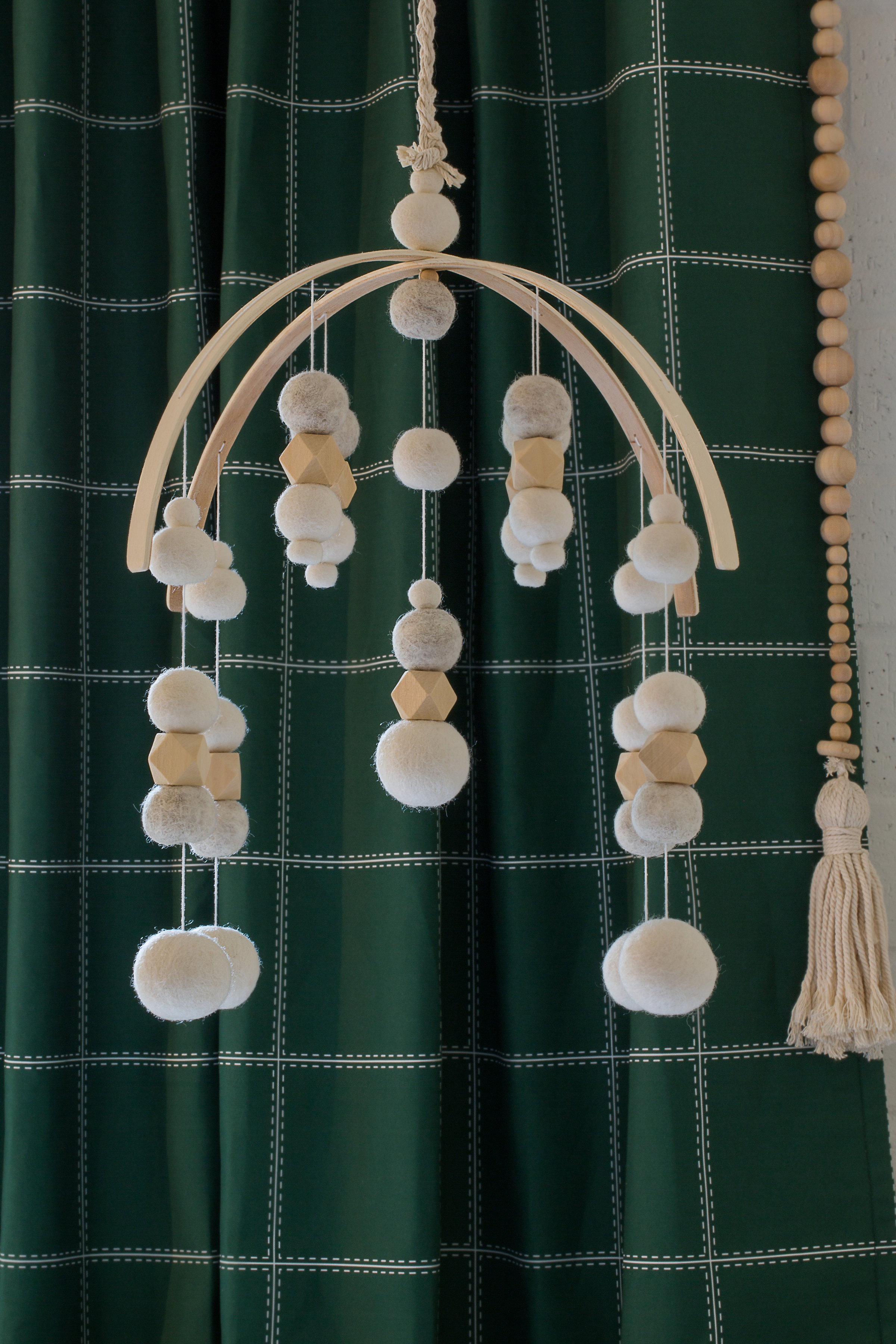 The artwork blows me away!  I can't wait to get a float frame on this piece, but I wasn't able to fit that into my timeline for this challenge.  I absolutely love working with talented, local artists.  For this particular piece, I worked with a great friend, Wynne Earle, who is one of the most talented artists I know.  I talked through the overall feel of the nursery and shared some photographs of images I was inspired by and THIS beauty is what she came up with!  I'm so particular about art.  Picky is actually an understatement.  But, this is what commissioning a piece of art specifically for your space gets you!
BEFORE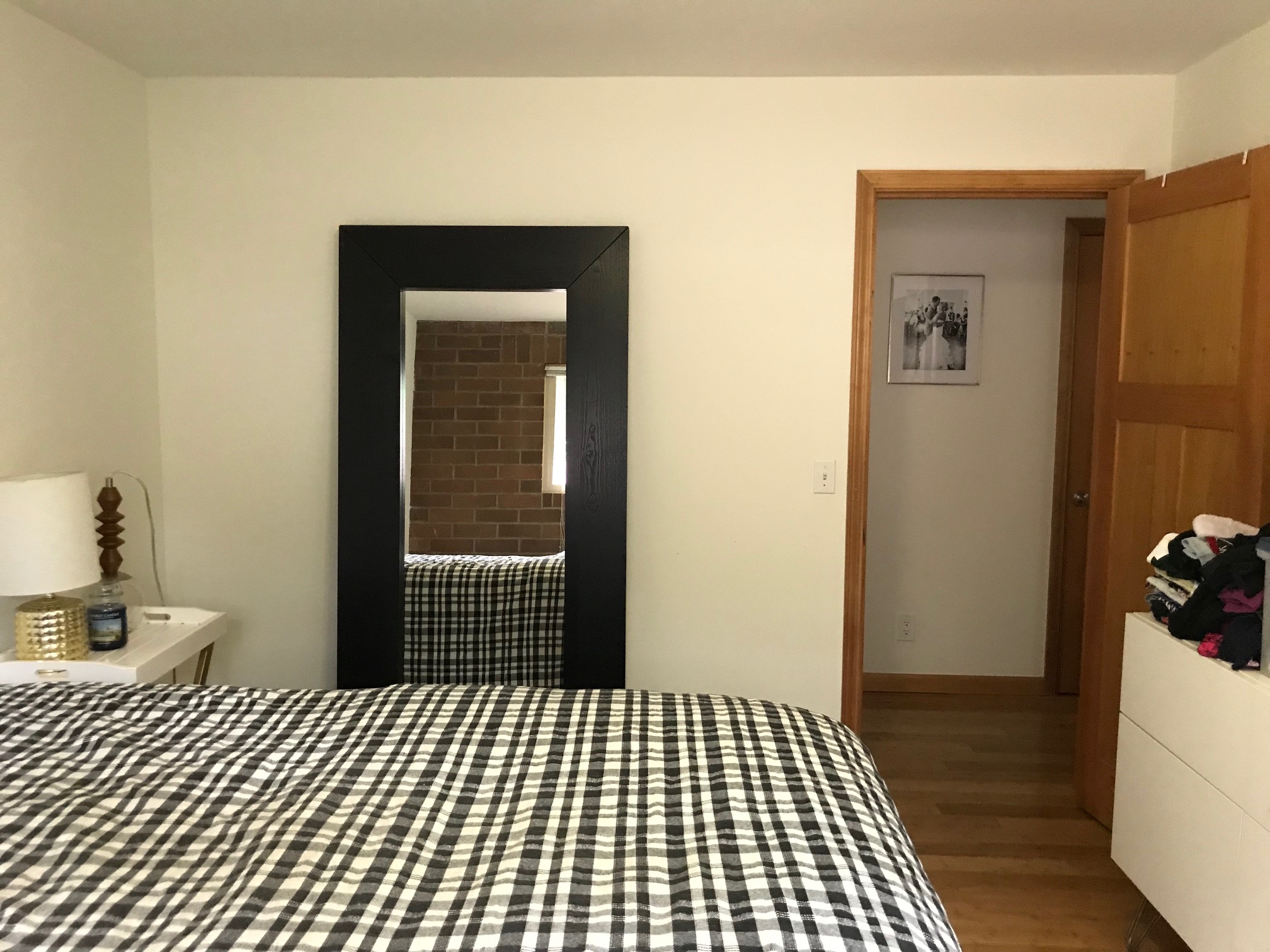 AFTER
If I had to pick one last detail to fave from this project, it would have to be the semi-custom dresser that my husband and I built. I had an idea in my head and when I see the final product, I feel like he and I nailed it! I wanted simple, clean and highly functional. This dresser doesn't disappoint! Don't get me wrong, it's not perfect, but it feels like a piece that's all our own made with our own four hands. Six, if you count our toddlers sweet efforts to help!
BEFORE
AFTER
Here are some detail shots I just can't get enough of!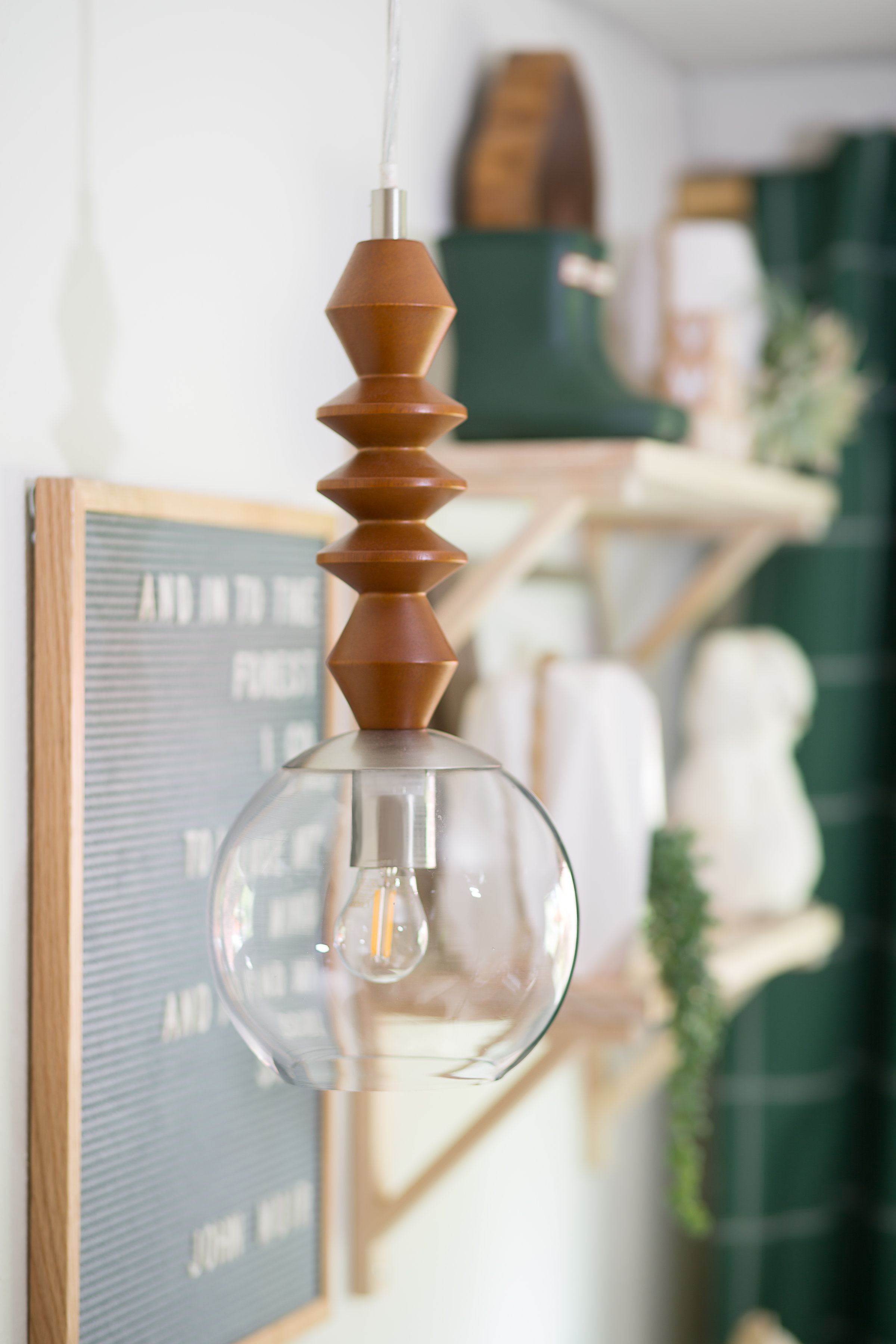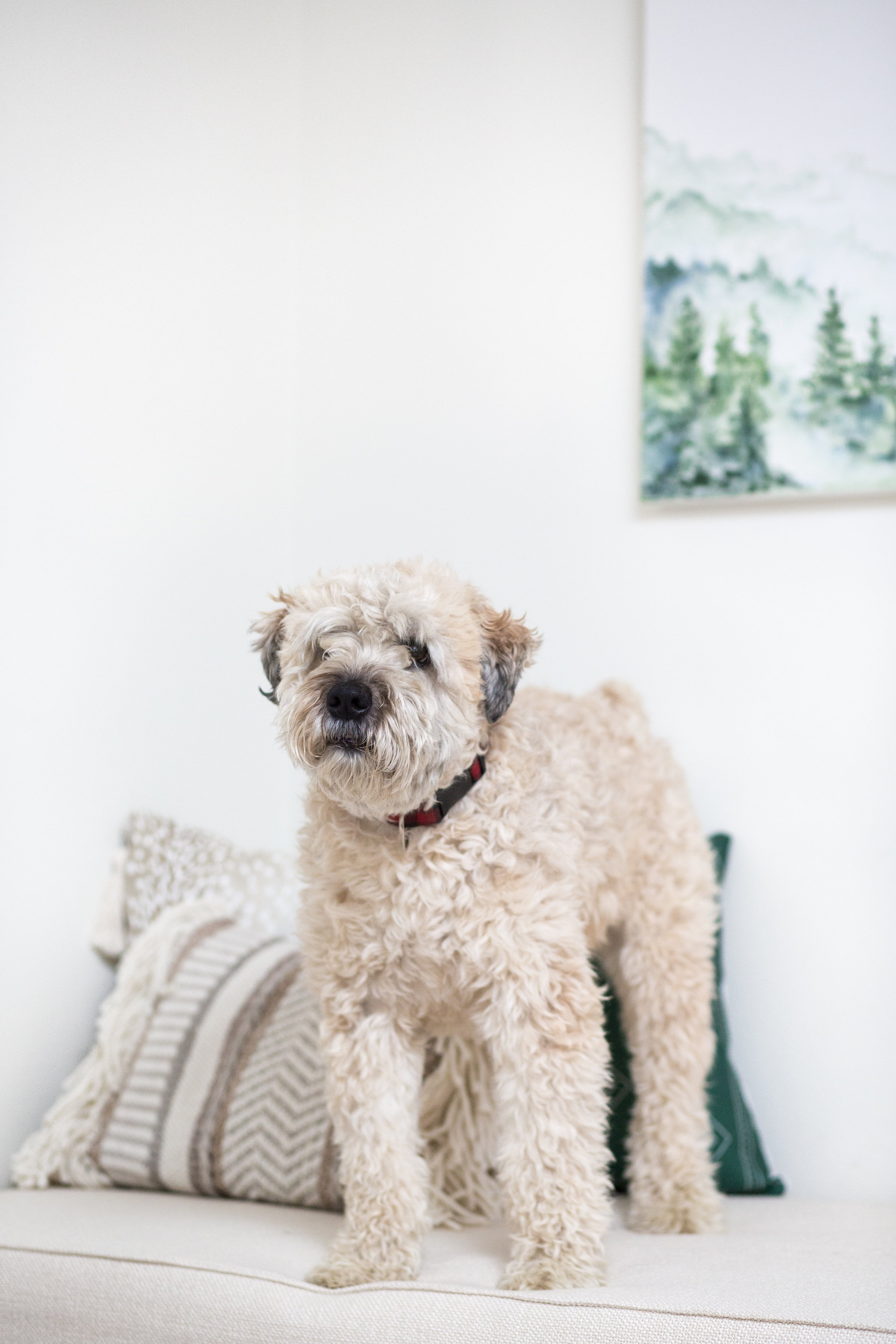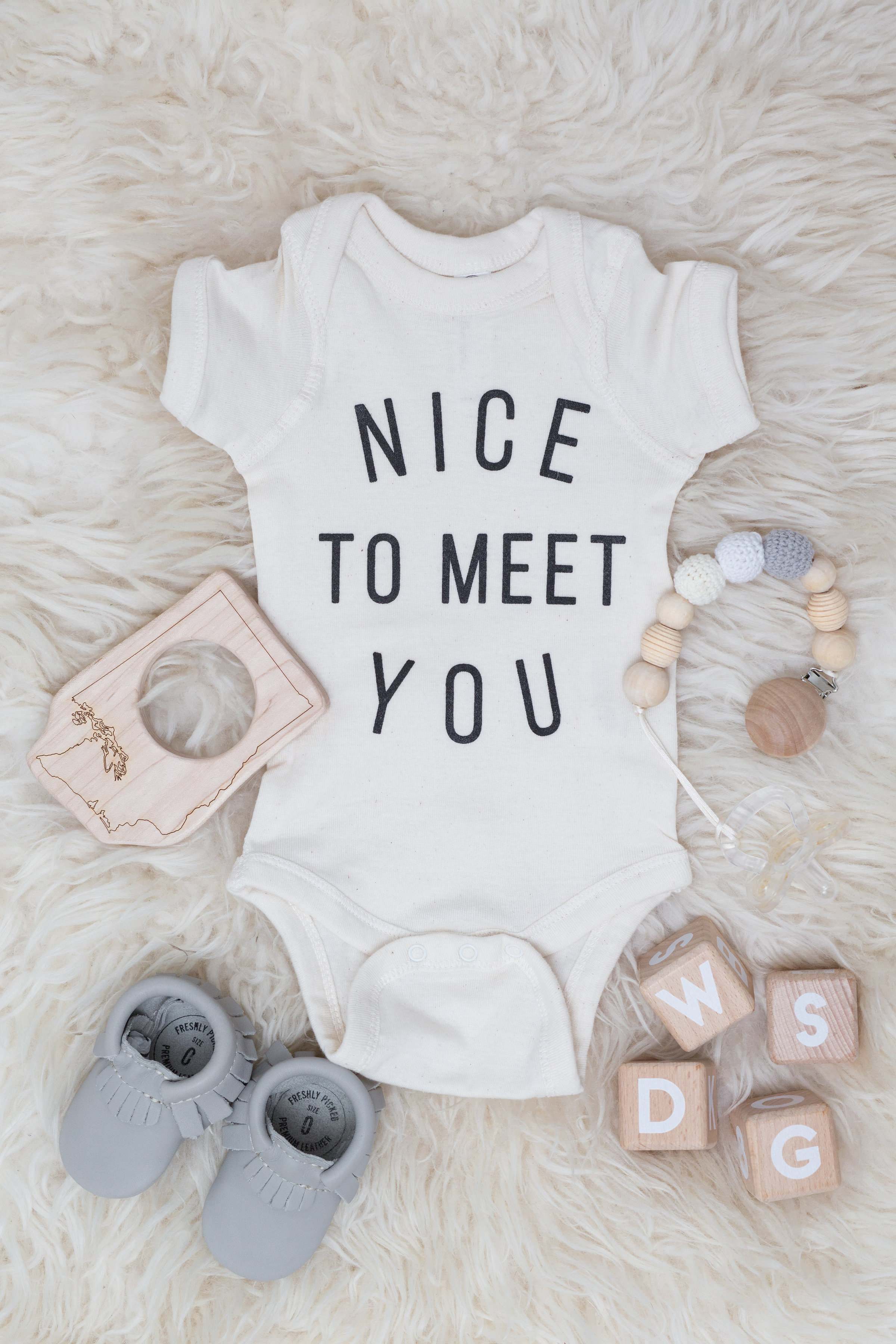 For anyone who's concerned about where the Ridgeback, Miss Makeena, wound up laying her head… 
No need to worry!  The princess is VERY happy in her new bed. 
I owe a HUGE "thank you" to Wynne of WHEarlePhotography. When the daybed, which was a huge solution to one of the initial challenges of the entire project, was massively delayed, I gave her a call to see if she could work with the time adjustment. Although I knew I was going to be asking A LOT!! She happily said that we would make it work. As promised, she came out the day of delivery, photographed this incredible shot list, and turned the images around the very next day for me! It was fascinating watching her edit and seeing just how much goes into each image! I owe her sooooooo much and couldn't have done this without her. I may have had a six week challenge, but this brave woman gave herself a 24 hour challenge. Bona fide – rock star.
Another huge "thank you" is owed to my lovely husband, who looked at me a little sideways when I suggested that I join this challenge, but smiled and said okay anyway. He got on board with all my ideas and supported my vision even though he couldn't clearly see it until the end. He did so much of the heavy lifting for this girl and I am beyond grateful.
Thank you so much to all of the vendors who agreed to work with my crazy deadline and shipped so many of the adorable things you see here far quicker than their promise dates.  Next week, I will be sharing all of the sources for the details and products that were used on this project.  So, if you've got your eyes on something here, I can't say enough wonderful things about everyone that I purchased items from. 
Most importantly, thank you to those behind the scenes of the One Room Challenge. This platform gives so many talented Designers and Bloggers the opportunity to put their very best skills to the test. It's been such a fabulous experience and I have relished in the opportunity to remotely meet some seriously talented individuals that I fully intend on developing further relationships with. I am so, so, SO impressed with the reveals from both the Featured Designers and Guest Participants. PLEASE don't miss the opportunity to check in on some sensational before and after projects. Click here to see all of the submissions. Thank you to Linda from Calling it Home and the partnership with House Beautiful for making this possible.
Lastly, thank you to you. My readers, followers, supporters and clients. Without you all, there would be no me as a Designer.
– Happy Designing –
heather scherie of Whitestone Design Group